Ecological Research Facilities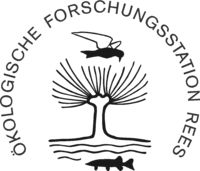 The Ecological Research Station Rees of the Institute of Zoology, University of Cologne, is situated in the district of Rees (Rhine km 845, North Rhine-Westphalia) in the Lower Rhine floodplain area. The surrounding landscape is shaped by a rich diversity of renatured and protected pastureland and divers freshwater habitats, including the main channel of the River Rhine, Rhine oxbows and large number of gravel pit lakes at different stages of ecological succession. The area is furthermore an important habitat for migratory birds (international protected area after Ramsar Convention).

The station provides the infrastructure for field work with a focus on equipment for freshwater ecology. Field samples can be processed in the fully equipped laboratories, including methods and conditions for molecular approaches. Next to the working infrastructure, the station offers space to accommodate a maximum of 20 researchers and students during courses and excursions.

Since its official opening in 1973, the station has been located in Rees-Grietherbusch. After 50 years of intensive and successful ecological research and teaching, the Ecological Research Station Rees has moved to a new building in Rees-Bienen. In direct neighborhood and close collaboration with the Naturschutzzentrum (NZ) Kreis Kleve e.V., a new era of of collaborative work between the two partners has been starting. The focal points of work in the Ecological research Station include research and teaching as well as method development and complement directly to monitoring and implementation of action concepts by the NZ Kleve e.V.. Together, this ensemble also forms the central infrastructure of the long-term ecological research project site REES (Rhine Eco-Evolutionary System) that is officially registered in the German network of LTER-D (Long-Term Ecological Research).

Students at the station will have to opportunity to gain insight into the profession at an agency as biologists, geographers and ecologists working at the NZ Kleve.
The Ecological Rhine Station of the University of Cologne (since April 2002) is Germany's unique swimming research facility. The former Rhine vessel (60 m long, 11 m wide) allows to study freshwater ecology onsite - literally "on stream". Water from the river is continuously pumped through different flumes (1.5 - 6 m long channels) and aquaria on board to carry out experiments with typical running water organisms under defined conditions. The vessel is equiped with two laboratories and additional rooms for microscopy, handling of field samples and desk work. A 17 m long raft on its stern made for landing the rowing boats is used for sampling and carrying out experiments directly in the stream (up to 1.5 m/sec, channels are directly immersed in the surface water). Here the biofilm and the macrobenthos communities on exposed substrates can easily be sampled at all water levels during long-term and short-term experiments.